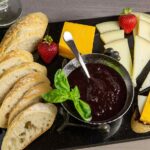 Print Recipe
Signature Blackberry Basil Jam
by Nanny Bubby
This one recipe is what turned on all my creative juices and got me hooked on bringing love into the kitchen. After years of cooking terribly and everyone making fun of me, this recipe inspired me. Over time, I morphed it into the current recipe, and it has become my signature dish.
I serve it as an appetizer, always, whenever I entertain. I hope you enjoy it as much as everyone who walks into my home.
Tip: The great news is, this recipe makes enough to freeze in small containers and if you use it as much as I do it will last more than a year and it is something you can throw together quickly as an appetizer. Enjoy! Remember, "Spread Love Like Butter"
Total Time:
2

hours
Serves:
Ingredients
2 ½

c.

sugar

2

oz.

Grand Marnier liqueur

or other orange flavored liqueur

2

oz.

fresh squeezed orange juice

4 ½

c.

lightly packed fresh basil leaves

8

c.

frozen or fresh blackberries

1

Granny Smith Apple

peeled cored and small diced

1

Tbsp.

grated lemon zest

2 lemons

1

medium lemon juiced

2 to 5

Tbsp.

pectin

as needed
Directions
Place the sugar and Grand Marnier in a non-metallic casserole, such as a Le Creuset.

Slowly heat till the sugar and liqueur are thoroughly combined.

Add the defrosted blackberries and their juice along with the orange juice, lemon juice and basil into a blender and blend until smooth.

Add the blackberry/basil mixture to the sugar mixture along with the Granny Smith apple and simmer about 45-50 minutes.

If you feel the mixture has not thickened enough, to your taste, you can begin adding some pectin. The jam will continue to thicken as it cools.

Place the jam in 2 oz. airtight containers and freeze for future use. Enjoy on slices of French baguette with a slice of basil and some rich Spanish cheese or English Cheddar.
Notes
Makes: A years' worth of appetizers when frozen in small Ziploc cups.