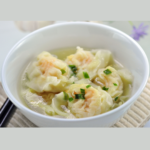 Print Recipe
Won Ton Soup II By Chef Tom Fraker Melissa's Produce
by Nanny Bubby
I love the superstitions of the lunar New Year! It amazes me how most of the superstitions for this celebration represent positive superstitions, not scary, but loving representations and symbols. For this recipe, Dumplings symbolize wealth for the Lunar New Year. It is absolutely necessary to eat dumpling to prepare and open your heart for wealth. The small addition of sherry yields flavorful meat filling in this popular Asian-style soup for the Lunar New Year. The Chinese definitely know how to "Spread Love Like Butter". Enjoy!
For links to SHOP all ingredients at Melissas.com CLICK HERE
Total Time:
55

minutes
Serves:
5
Ingredients
1/2

lb.

ground pork

cooked

1/4

lb.

shrimp

cooked and chopped

3

Tbsp.

sherry

1

Tbsp.

cornstarch

2

tsp.

ginger root

minced

1/2

tsp.

Kosher salt

1/8

tsp.

ground black pepper

24

sheets Won Ton Wrappers
For the Soup
6

c.

chicken broth

1

c.

Baby Bok Choy

cleaned and chopped

1

package

0.5 ounce Dried Shiitake Mushrooms, reconstituted;

stems discarded and caps sliced thin

see notes below

1/4

c.

Snow Peas

2

tsp.

Sesame Oil
Directions
In a large bowl, combine the first 7 ingredients and mix well.Take one won ton wrapper and place it on a working surface in a diamond shape and moisten the edges with water.

Place 1 teaspoon of filling in the middle of the won ton skin. Press the skin around the filling to seal it in.

Moisten your fingers and wet the bottom corner, then fold the top corner over so that it meets the bottom corner and resembles an inverted triangle. Press down to seal.

Then moisten the left corner and bring it over to meet the right corner. Press to seal. A properly made won ton is commonly described as resembling a nurse's cap.

Cover filled won tons with a towel to keep them from drying out.
For the Soup
Place broth in a large pot. Bring to a boil and add the bok choy and the mushrooms. Cook for 2 minutes.

Add won tons and cook for 3 minutes more.

Stir in the snow peas and sesame oil. Adjust seasonings and serve.

Garnish with sliced green onions or fried won ton strips.……………..

HINT: Sealing won tons is similar to sealing an envelope. Do not overfill won tons and using just a small amount of water to seal them prevents bursting. Keep the work area as dry as possible.

Enjoy!