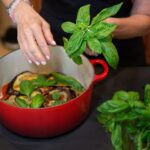 Print Recipe
Eggplant Parmesan
by Nanny Bubby
When my daughter and son-in-law moved back to Las Vegas after law school to get their first jobs, they moved in with us to save money to buy a house. They were here for two years and I absolutely loved it (not sure how they felt about it, LOL!). For me, having adult children living at home was great. We could all have a glass of wine at dinner, everyone just naturally pitched in to do the dishes. We talked business or politics during dinner and I NEVER had to say, "Is your homework done"? or "Did you make your bed"? It was awesome! We were all working, so on many nights we ordered take out. There was a local restaurant that made the best eggplant I had ever had, and my son-in-law agreed. It was not breaded and did not seem to be deep fried. The flavor was just amazing. I kept trying to duplicate the tenderness of the eggplant by frying or baking and just could not match it. Then one day when I was grilling the eggplant and taking it off the grill, I got a phone call. I quickly put everything into a Le Creuset stock pot and then put the top on. After 20 minutes, when my call ended, I returned. And when I took the top off the eggplant, it had steamed itself. VOILA, I had the consistency I was trying to achieve, by accident! You just won't believe the wonderful flavor. Enjoy!
Total Time:
1

hour
Serves:
8
Ingredients
3

medium-sized Italian eggplants

cut on a diagonal about ¼ inch thick

1

bottle organic spray olive oil

Salt generously sprinkled on both sides

3

jars of Rao's Arrabiatta sauce or any Fra Diavolo

Arrabiatta that you prefer.

1

large bunch fresh basil

½

lb.

penne pasta or traditional spaghetti

2

lb.

mozzarella

grated

2

lb.

provolone

sliced

1

lb.

Parmesan-Reggiano

grated
Directions
Generously spray the eggplant with olive oil on one side, then salt and lightly pepper. It's important to really coat the eggplant with the oil so that it caramelizes nicely

Place the eggplant olive oil side down, either on a hot grill covered with foil and sprayed with olive oil or on a cookie sheet.

Generously spray the side that is facing up with olive oil again, and salt and lightly pepper.

Place on the BBQ grill (or in the oven on high heat) until the bottom side looks to be browned and beginning to caramelize, and then flip the eggplants. (In the oven, it will evenly begin to brown and caramelize without flipping.)

Once the eggplant caramelizes, take it off the grill and place into a large enameled stock pot or soup pot. (Be sure pot is non-metallic.)

Tip: Immediately after taking the eggplant out of the oven or off of the grill while it is still very, very hot, lay the eggplant slices on top of each other and place the top tightly on the pot for about 20 minutes. During those 20 minutes, the eggplant will steam itself one on top of the other which will result in the most tender and juicy eggplant. This steaming process also gets rid of any bitterness.

Once the eggplant has cooled, it is time for layering.

Preheat the oven to 350 degrees.

Start with about 2/3 cup of sauce spread on the bottom of the pot (so nothing sticks to the bottom).

Place about three cups of cooked al dente penne or spaghetti on the bottom of the pan. This will be the only layer of pasta in the dish.

First place a layer of eggplant, then basil on top of each piece of eggplant. Cover with a combination of mozzarella then provolone. Then cover with sauce. Repeat this layering process until all the ingredients are used.

On the last layer at the top cover with freshly grated parmesan cheese and a basil twig.

Bake for 30 minutes or until the cheese is brown and the tomato sauce is bubbly. Take it out of the oven and let it rest for about 20 minutes.
Video
Notes
Tip: Before cutting and serving always let your casserole rest so it has time to bind and settle. Then cutting is a dream! Enjoy!