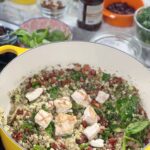 Print Recipe
Riced Cauliflower Vegetable Bowl
by Nanny Bubby
This recipe is beautiful, and it looks complex! Truth is that it is quite simple and leaves opportunities to use your own creativity. In my cooking confidence course this is one of the first recipes we visit for beginning cooks. There are so many alternatives, and it is so easy for students to feel comfortable being creative and using their own intuition. I have listed some alternatives to play with and be creative with to help you build your confidence, too!
Total Time:
20

minutes
Serves:
4
Ingredients
2

Tbs.

Olive Oil

1

bag organic riced cauliflower

1/2

c.

pesto

2

c.

chopped kale

1

c.

sundried tomatoes sliced

1

c.

feta cheese crumbled.

Salt and pepper to taste

Add any cooked protein of choice or sushi

Drizzle hickory smoked olive oil

Alternatives:

Capers

Pine nuts

Pistachio nuts

Olives

Spinach

Chard

Butternut squash

cooked
Directions
Add the olive oil to a sauté pan.

Once heated add the bag of riced cauliflower and cook till softened.

Add the pesto stir till combined.

Add the next 4 ingredients, (kale or greens of your choice, sundried tomatoes, salt and pepper).

Stir till heat level increases to added ingredient to match the cauliflower.

Finish with Feta cheese and drizzle of hickory smoked olive oil. Use as a side or place a cooked protein of your choice on top. Enjoy!
Video