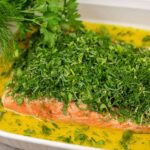 Print Recipe
Salmon With Six Herbs
by Nanny Bubby
We love Salmon. And we love it even more when all of the herbs come right out of our garden. This is our family's and friend's favorite salmon recipe. Use what you have available for herbs. If you are missing one or two, never worry, it is just as good without one as it is with adding one. Enjoy!
Total Time:
1

hour
Serves:
7
Ingredients
3

lb.

salmon filet

¼

c.

Mediterranean herb-infused olive oil

1

tsp.

Kosher salt

½

tsp.

fresh ground pepper

3

Tbsp.

fresh squeezed lemon juice

½

c.

Italian parsley

minced

½

c.

min

minced

½

c.

dill

minced

½

c.

basil

minced

½

c.

oregano

minced

¼

c.

chives chopped small

½

c.

dry vermouth
Directions
Preheat oven to 425 degrees.

Place the salmon filet in a non-metallic baking dish like a Le Creuset or ceramic or glass baking dish.

Combine the olive oil and lemon juice and pour over the salmon. Season with salt and pepper.

Let it marinate on the counter for a minimum of 15 minutes while you prepare the mincing of the herbs.

In a glass bowl stir together the combination of the six minced herbs. Place the mixture over the top of the salmon being careful to spread out evenly. Pour the vermouth around the salmon.

Roast the salmon for 10 to 12 minutes for medium rare. Test by cutting through the middle to check for doneness.

Cover the dish tightly and let stand for 8 minutes.

Cut the salmon crosswise about 2 to 3 inches thick and serve with lemon wedges.