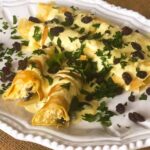 Print Recipe
Chicken Crepes
by Nanny Bubby
This is an old 70s recipe that was given to me years ago by my college roommate. I don't ever remember making it with her in our apartment, but I suspect that when I visited her home her mother made this for me, and I fell in love with it. When I got married and first began entertaining, I used this recipe over and over again. It was the only thing I could cook, and as long as whoever was coming had never eaten it before, it was my go-to recipe. All these years later, it is still a crowd pleaser. Enjoy!
Total Time:
1

hour
30

minutes
Serves:
7
Ingredients
2 ½

lbs.

boneless

skinless chicken breasts and thigh combination

1 ½

c.

chicken stock

1

sweet yellow onion

diced

¼

c.

butter

3

Tbsp.

flour

2

c.

Half & Half

1

Tbs.

curry

1

c.

raisins

Entrée Crepe Ingredients

1

c.

whole milk

3

eggs

2/3

c.

flour
Directions
Pre-heat oven to 350 degrees

Directions for the Curried Chicken:

Season the chicken lightly with salt and pepper and place in a Pyrex dish with chicken stock. Cover tightly and bake for one hour.

Sauté the onion in the butter and add the flour. Stir with a wooden or silicone spoon until smooth.

Add the Half & Half slowly and stir until it begins to thicken. Add the curry and raisins off the heat.

Set aside about 1/4 of the sauce. Once the chicken has cooled shred and add the chicken into the rest of the sauce. Mix thoroughly.

Direction for the Entrée Crepes:

Combine the milk, eggs and flour and mix well. Let the batter stand 30 minutes before frying.

Using either a crepe maker or a 6-inch sauté pan, spray with avocado oil and place a thin coat of crepe mixture in the pan. Turn when bubbling like a pancake the whole process should take no more than three minutes per crepe.

Combining and Rolling

Place about 2 Tbsp. of the curry chicken mixture onto a crepe and roll. Place each rolled crepe into a large baking dish and, when the dish is full, cover with the remaining sauce.

Tip: At this point the crepes can be covered and refrigerated as a make ahead dish. When ready to reheat, place in a 300 degree oven for 30 minutes. Sprinkle with raisins and parsley for color.