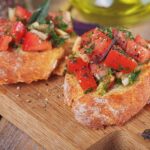 Print Recipe
Double Tomato Crostini
by Nanny Bubby
My dear friend Karen from Chicago, now Scottsdale, shared this recipe with me before she left Chicago more than 26 years ago. Over the years the recipe morphed while in my hands. But like all recipes that are shared, when I make them, I always think of the person who shared it with me with such love in my heart.
Tip: This is a great recipe to make on a moment's notice for friends or family that drop in. I learned that to always have baguettes in the house, it is best to slice them and then freeze them. That way they are always available and ready to toast in the oven. In a moment's notice you could substitute any cheese you have in the house. Keep dehydrated sun-dried tomatoes in a bag in your pantry. If you are out of fresh tomatoes at the time you can make them with just the sundried tomatoes.
It works, trust me from experience. Enjoy! "Spread Love Like Butter"
Total Time:
30

minutes
Serves:
8
Ingredients
5

sundried tomato halves

not in oil

2/3

c.

lightly packed basil leaves cut in chiffonade

½

c.

olive oil

1

loaf

12 oz. baguette (French bread)

6

pipe Italian plum tomatoes

2

Tbsp.

red wine vinegar

4

oz.

smoked mozzarella

shredded

½

c.

pine nuts

toasted

Pre-heat oven to 350 degrees.
Directions
In a small bowl, soak the dried tomatoes in water for about 5 minutes. Drain, pat dry and mince.

Place in larger bowl to be combined with other ingredients.

Mince half of the chiffonade basil and add to the tomatoes. Add ¼ of a cup of the olive oil. Mix until well blended.

Cut the baguette diagonally about ½ inch thick. Brush both sides of bread with olive oil and bake for 8 to 10 minutes until golden brown.

Toast the pine nuts in a dry hot skillet, until golden.

Slather the top of the bread with ½ of the tomato mixture. Add ½ of the remaining basil, Italian tomatoes, vinegar, pine nuts and mozzarella to the sun-dried tomato mixture and spoon over the top of the bread. Sprinkle with the remaining basil. Eat and enjoy!
Video