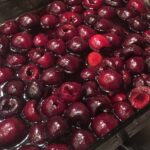 Print Recipe
Fruit Roll-ups
by Nanny Bubby
Total Time:
Serves:
Ingredients
1 ½

lbs.

about 5 C. any fruit of choice, especially stone fruit, all of it pitted.

2

Tbsp.

fresh lemon juice

¼

c.

honey

Pre-heat oven to 170 degrees or dehydrate in the sun.
Directions
Line a half sheet baking pan with either a Silpat or parchment paper.

In a blender or food processor add the fruit and begin to puree. While pureeing add the lemon juice and honey through the food tube.

Pour the pureed fruit onto the baking sheet and evenly cover the entire pan.

At this point, you can place the pan into the oven for 5 to 6 hours, rotating the pan halfway through the drying process. You will know to remove the pan from the oven when the mixture is no longer sticky.

Tip: If you wish to dry in the sun, place a piece of parchment and then a towel over the pan to avoid bugs. Leave in the sun for 5 to 6 hours or until the fruit leather is no longer sticky.

Allow the pan to cool completely. If you used a Silpat, peel it away from the baking mat and place the fruit leather on a large piece of wax paper. Cut in long strips with a pizza cutter and roll up with the wax paper still attached to the bottom. Eat and enjoy!