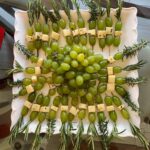 Print Recipe
Marinated Fontina Cheese & Grapes On Rosemary Skewers
by Nanny Bubby
This recipe was shared by one of our gatherers in our "Gather with Nanny Bubby" Facebook group.  It was so beautiful, and so delightfully easy and fun to make, I had to make it myself.  I give her complete credit, Roseanne Heideman is amazingly artistic both with food and with art.  Enjoy this amazing appetizer! And remember, "Spread Love Like Butter"
Total Time:
1

day
Serves:
Ingredients
2

Tbsp.

extra virgin olive oil

I use Temecula Olive Oil Company's D/luscious Fresh Lemon

2

Tbsp.

white balsamic vinegar

I used Temecula Olive Oil Company's Fresh Apple balsamic vinegar

3/4

tsp.

crushed red pepper

kosher salt

1/2

lb.

fontina cheese

wax removed, cut into 24 cubes

24

sprig(s)

rosemary sprigs

48

single

grapes

plus a vine of grapes for the center garnish
Directions
Prepare the rosemary sprigs by stripping the springs of needles on the bottom half where you will be putting the cheese and grapes later. Set rosemary needles to the side as you will use some in the marinade.

Mince enough rosemary needles to measure about 1/2 cup.

Create the cheese marinade by adding minced rosemary, red pepper flakes, white balsamic, oil and salt to taste in a bowl. Whisk until combined and add the cheese. Let chill in a ziploc bag or in a covered bowl for 4 hours or overnight, mixing halfway through to help the cheese absorb the flavors.

Assemble the skewers by adding a grape, then marinated cheese, then a grape to each skewer. Assemble on a serving platter and enjoy! It is best at room temperature.