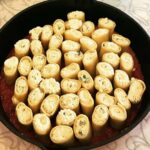 Print Recipe
Vertical Stuffed Paccheri
by Nanny Bubby
I was invited to a fundraiser and the caterer served what looked to me like vertical rigatoni. It just looked so fun and happy. I decided to try my hand at making it. I boiled the rigatoni and once I stuffed them, they fell apart while cooking. So, then I tried stuffing them while still dried and the part that stuck out of the sauce was hard and burned. Alas, the rigatoni was just too small and I had to solve the problem of how to make this work. I happened upon Paccheri noodles at the Italian deli. (never heard of them before). I began to solve the problem of, "to boil or not to boil". And after 20 tries I came up with soaking them in cold, salted water just long enough to where they could compress between your two fingers. The perfect texture to bake and the perfect size to stuff.
Total Time:
3

hours
Serves:
9
Ingredients
1

lb.

Paccheri Pasta shells

De Cecco brand preferred

30

oz.

whole-milk ricotta cheese

1/2

c.

grated Romano cheese

2

Tbsp.

fresh parsley

minced

12

leaves

fresh basil

cut into chiffonade

1

large egg room temperature lightly beaten

Freshly ground black pepper

8

oz.

Parmesan

grated

2 to 3, 24

oz.

jars good-quality Arrabbiata Sauce (Rao's brand

preferred)

8

oz.

mozzarella cheese

grated

Kosher salt to taste
Directions
Soak the bag of pasta for 2 to 2.5 hours in cold salted water being sure that all pasta is completely covered. When the pasta is spongy and able to be compressed between two fingers it is ready to be stuffed.

Pre-heat oven to 350 degrees.

Combine the ricotta cheese, Romano, parmesan, parsley, basil, salt, pepper and egg till mixed evenly. Fill a pastry bag with a large star tip with the mixture.

Fill a non-metallic skillet with enough pasta sauce so that it comes about 2/3 up the side of the pan. Place the softened Paccheri into the pan vertically.

Fill the Paccheri tubes with the ricotta mixture all the way to the very top.

Place into the oven for 25 minutes with the pot covered so that the pasta will continue to cook and steam to the perfect texture.

The last 10 minutes sprinkle with Mozzarella cheese and cook with the top off until melted. Enjoy!