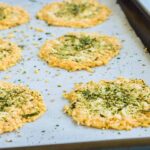 Print Recipe
Cauliflower Parmesan Crisps
by Nanny Bubby
One Super Bowl year I was experimenting with some gluten-free options. My husband usually goes on a high-protein diet, (more keto than anything) right after the first of the year, and I needed an option for him that he could feel satisfied with while everyone else was eating chips.
I initially doubled the recipe so he would have enough and not feel deprived during the day. Well, to my surprise, a few people dug into the crisps, and told the next person, who told the next and voila, they were gone in a flash!
I was getting stink eye from my husband as everyone was eating his special treats, but everyone else was in heaven. As I remember it, he ended up having no choice but to break the diet regimen on that day! Good thing, everything else that he was going to say "no" to was too good to pass up. We had a great Super Bowl Sunday, and a pretty rough, "Manic Monday" trying to burn all of it off (LOL). I hope you love these as much as we do. Even my four-year old granddaughter loved them. Love, "Spreading Love Like Butter".
Total Time:
20

minutes
Serves:
6
Ingredients
3

lb.

head of cauliflower

1 average head of cauliflower or 2 bags fresh riced cauliflower

3/4

c.

fresh grated parmesan cheese

1

tsp.

garlic powder

1

Tbsp.

fresh parsley

minced

Kosher salt

optional, to taste
Directions
Cut cauliflower florets off the stem.

Tip: There are so many riced cauliflower options out in the stores. I love the Whole Foods organic riced cauliflower and you can even steam it right in the bag, which saves time and mess.

Steam cauliflower florets until tender (10 to 15 minutes) or microwave the riced cauliflower per directions.

Place steamed cauliflower florets in a food processor and pulse a few times until it looks like fine crumbs. (Make sure there are no chunks left.)

Transfer cauliflower crumbs in a doubled cheese cloth or nut bag and squeeze out all the liquid. (You may have to let it cool a bit or it will be too hot for you to squeeze.)

Place cauliflower in a mixing bowl and add the parmesan cheese, parsley, and garlic powder. Mix well, until it is all evenly incorporated. (Taste to see if you want to add salt. Parmesan cheese is quite salty, and you may feel like it's enough salt.)

Preheat the oven to 425 degrees and line a large baking sheet with parchment paper or a Silpat (a food-grade silicone liner, one of my favorite kitchen tools).

Use a cookie scoop to scoop out cauliflower mixture. Press it into a ball with your hands and place it on the baking sheet. (I used #40 scoop.)

Press down to flatten the cauliflower mixture into a thin disk, fixing the broken edges. The goal is for the disks to be only about 3 millimeters thin and 3 inches wide at the center.

Repeat until you get about 12 pieces.

Bake for 15 to 17 minutes, until deep golden brown and crispy.

Let the cauliflower crisps cool before taking them off the baking sheet. People go crazy for this. Enjoy!