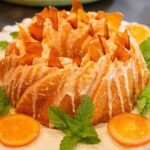 Print Recipe
Harvey Wallbanger Poke Cake
by Nanny Bubby
You gotta love this one! During the disco era, a Harvey Wallbanger drink was the rage in all the discotheques. Everyone was "definitely cool" if they were spotted drinking one. Then someone ingeniously came up with a cake recipe. It is totally retro, and I serve it when everyone has become bored with my other cakes and then it's the rage all over again. Everyone loves it. It is true, everything that is old is new again if you wait long enough. I think you will love this as well. Enjoy!
Total Time:
1

hour
30

minutes
Serves:
9
Ingredients
1

package Duncan Hines Orange Supreme cake mix Or package Duncan Hines Butter Golden cake mix if you can't find the orange cake.

1

small package instant vanilla pudding

4

eggs

room temperature

½

c.

oil

sunflower preferred

¾

c.

fresh squeezed orange juice

2

Tbsp.

orange zest

2

Tbsp.

vodka

3

oz.

Galliano liqueur

1

package candied orange slices Tip: Find these at Trader Joe's

Infuser Poke Soak:

½

stick sweet butter softened

½

c.

fresh squeezed orange juice

1

c.

sugar

1 ½

Tbsp.

vodka

1 ½

Tbs.

Galliano liqueur

Wallbanger Glaze:

1

c.

sifted powdered sugar

1

Tbsp.

orange juice freshly squeezed

1

Tbsp.

Galliano liqueur

1

tsp.

vodka

Caramel Glass:

½

c.

granulated sugar

3

Tbsp.

Galliano liqueur
Directions
Pre-heat oven to 350 degrees.

For the cake:

In a mixer, combine the cake mix and pudding on low speed for about 30 seconds.

Increase to medium speed and add the eggs, oil, orange juice, vodka, and Galliano. Mix for about 1.5 minutes until well combined.

Grease a Bundt cake pan and pour the batter into the molded pan.

Bake for 55 minutes. Let cool for 20 minutes before turning over onto a cake plate.

For the poke soak:

Melt the butter and add the orange juice, sugar, vodka and Galliano.

Simmer on low heat for about 15 minutes.

Take a wooden skewer (or any other skewer you have) and poke holes along the top of the cake about every ½ to 1 inch.

Pour the poke soak over the top of the cake slowly and allow it to find its way through the holes in the cake. Let the cake sit for about 15 minutes.

For the glaze:

Combine the powder sugar, orange juice, Galliano and Vodka in a bowl with a wire whisk.

Drizzle generously over the top of the cake and let come down the sides into the center and to the front of the cake.

For the caramel glass:

Line a baking sheet with a food-grade silicone liner (Silpat).

Place the granulated sugar and Galliano in a small saucepan and cook, without stirring or shaking the pan until the mixture rolls in a simmer to a deep amber color. This will take about 5 to 7 minutes.

Pour the caramel on to the silicone mat and allow to cool to room temperature.

Once cooled, break into shards and decorate the top of the cake, along with thin candied dried orange slices.
Notes
Tip: I highly recommend using a Silpat as it is easier to roll the glass off the surface and break into chards. Never any sticking. Also, and let me be clear, never never touch the caramel glass until it is cooled or you will have pain like never before as it takes off your top layer of skin. (I speak from experience)