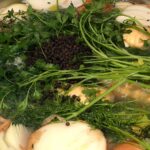 Print Recipe
Nanny Bubby's Chicken Soup
by Nanny Bubby
In our house chicken soup is the cure for everything. You scraped your knee let me make soup. You are sick, let me make soup. Anyone in my family is sick off I go with packed up chicken soup. We call it Jewish Penicillin!!! It is the ultimate comfort food. It cures everything. It is absolutely LOVE in a pot. Enjoy!
Total Time:
5

hours
Serves:
8
Ingredients
2

Whole 3-4 lbs. Chicken

or

1

Whole Chicken and 4 lbs. chicken legs and thighs combination

2

Large yellow onions

unpeeled and quartered

4

Carrots

unpeeled and halved

6

stalks celery with leaves cut in half

1

Large Rutabaga

1

Large Turnip

1

large bunch fresh Italian parsley

1

Large bunch thyme

1

Large bunch dill

3

Large sprigs rosemary

2

Large heads garlic

unpeeled and cut in half lengthwise

3

Tbs.

Kosher salt

1

Tbs

whole black peppercorns

To Serve:

6

Diced carrots

6

Diced whole celery

1/8

c.

Fresh dill

½

c.

Fresh Italian parsley
Directions
If you are using the 4 lbs. of legs and thighs when purchasing, ask the butcher to split or crush the bones of the meat before packaging. This allows the broth to become richer with collagen and create more of a rich healthy bone broth that creates a jellied consistency when cold. A true sign of lots of collagen for good health.

Place the chicken, onions, carrots, celery, rutabaga, turnip, parsley, thyme, dill, rosemary, garlic and seasonings in a 16 quart stock pot. Cover with water to about ¾ of the pot. Bring to a boil. Remove the whole chicken and let cool. Remove the breast meat and cover and setting it aside until soup is ready for serving. Return the remaining carcass' to the pot and continue simmering, uncovered for 3 more hours.

Strain the entire contents of the pot through a fine sieve. Let it cool and then chill. I always find making this a day ahead is a good way to go. Sometimes it can take hours to cool down. You do not want to put it in the fridge to chill if it is still hot because it will sour. Also, most of the dark meat will disintegrate over the 3 hours. I throw everything away.
Notes
Tip: If there is any dark meat worth saving, I always pack it up for meals for my little pup. He loves it.
To serve the soup, reheat the stock in a pot adding the carrots, celery, dill and parsley. Shred the reserved chicken breasts into larger pieces and add to the pot. Simmer over low heat for 15 minutes until the vegetables are soft. Season to taste and serve over 2 matzo balls.