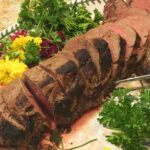 Print Recipe
Marinated Flank Steak
by Nanny Bubby
This recipe of mine is so very old. It came from a friend in Scottsdale and it is my go-to recipe when I entertain. The key is freezing this for two days. I have no idea why, but it works! In fact, for my best friends 40th birthday in St. Louis, I prepared a marinated frozen flank steak from Costco. It was huge. I froze it for two days, and then I carried it on the plane in my carry on for 3.5 hours from Las Vegas to St. Louis. When we arrived at her home, I slipped it into her refrigerator. The next afternoon we prepared the most beautiful birthday dinner for her and the marinated steak was a huge hit! I told the story over a bottle of wine, about how I carried that meat in a carry-on, frozen all the way from Las Vegas. We laughed for days.
Total Time:
35

minutes
Serves:
7
Ingredients
3 to 5

lbs.

flank steak

2

Tbsp.

sugar

½

tsp.

ground ginger

2

Tbsp.

white vinegar

2/3

c.

soy sauce

½

tsp.

garlic powder
Directions
Place the meat into a Ziploc bag.

Mix the ingredients above in a bowl with a whisk and pour into the bag.

Massage the meat with the marinade and let sit at room temperature for about 30 minutes.

Place the meat in the bag and evenly surround it with the marinade. Then, lay it flat into the freezer.

After about two hours, before it is fully frozen and just icy, flip the meat over. Keep frozen for at least two days.

Thaw overnight in the refrigerator and take it out to thoroughly defrost on the counter for about one hour the next morning.

Return to the refrigerator until ready to cook. For flank steak, grill five minutes per side. For beef tenderloin grill on low for 10 minutes per side for medium rare.