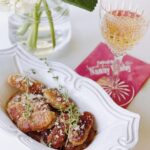 Print Recipe
Mascarpone & Lemon, Thyme Gnocchi with Thyme Butter Sauce
by Nanny Bubby
Gnocchi looks daunting, but it isn't. The first time I made it myself I was shocked at how easy it was and how fun it was. When I coached a client through the process, she giggled with joy at how easy it was and how she could wow her guests by making homemade gnocchi. My memory…..we had a great time together working through this recipe and the satisfaction of conquering this recipe will live on in memory and smiles forever! Enjoy!
Total Time:
45

minutes
Serves:
8
Ingredients
1

c.

8 ounces mascarpone cheese, at room temperature

1

c.

4 ounces grated Parmesan

1

tsp.

Kosher Salt

1/4

tsp.

ground nutmeg

Zest of 2 large lemons

1

large egg

at room temperature

1

large egg yolk

at room temperature

3/4

c.

all-purpose flour

plus extra for forming the gnocchi

1

Tbs

thyme leaves

3

Tbs.

butter

For the Sauce:

1/2

c.

unsalted butter

1

tsp.

kosher salt

2

tsp.

fresh thyme leaves

1

Tbs.

tarragon

1

tsp.

lemon zest

1/4

c.

shaved Pecorino Romano cheese
Directions
Combine the mascarpone cheese, Parmesan, salt, nutmeg, lemon zest, thyme, egg and egg yolk in a bowl.

Beat together using a hand mixer on medium speed until light and fluffy, about 1 minute.

Gradually beat in the flour until the mixture forms a soft dough.

Sprinkle a pie pan or rimmed baking sheet with flour.

Drop 1-teaspoon-size pieces of dough into the pie pan using 2 small spoons.

Shake the pan gently to cover the dough with flour.

Gently roll the pieces of dough into oval shapes.

For the Sauce:

Meanwhile, cook the butter and salt in a heavy medium skillet until it begins to brown, about 1 minutes. Add the gnocchi and brown each side of the Gnocchi for about 2 minutes per side on medium heat. Remove gnocchi to a plate.

Remove the skillet from the heat and stir in the chopped thyme, tarragon, and lemon zest. And toss gently. Add back in the gnocchi. You can serve it right out of the skillet, and it is amazing. Sprinkle with Pecorino Romano and extra Thyme and serve.