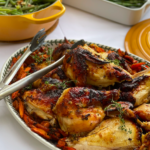 Print Recipe
Spatchcock Sticky Mango Chutney Chicken
by Nanny Bubby
Spatchcock!!!! What????? What is that, right? I know, I myself only came to know this term in the last year! Turns out this form of cooking a chicken has been around since the 17th century! The technique is meant to allow a whole chicken to cook evenly during the cooking process. Adding this marinade to the technique makes a delicious, evenly cooked whole roast chicken. Enjoy!
Total Time:
1

hour
30

minutes
Serves:
5
Ingredients
1

whole chicken

1

Tbsp.

Olive oil

1

red onion finely minced in a food processor

2

garlic cloves finely minced in a food processor

1 ½

tsp.

good curry powder

¼

tsp.

cayenne pepper

1

tsp.

grated fresh ginger

1

tsp.

orange zest

2

Tbsp.

fresh squeezed orange juice

1

tsp.

kosher salt

1 6

oz.

jar mango chutney room temperature
Directions
Pre heat oven to 400 degrees

Cut the back out of the chicken from tail to neck with a pair of good poultry shears. Then cut the breast bone enough so you can spread the chicken out flat onto the pan.

(hint: wearing plastic gloves will help keep the shears from slipping out of your hands during the cutting process. Provides for a stronger grip.

Heat the oil in a skillet over medium-high heat. Add the onion and cook until it is soft and starting to brown about 3-4 minutes. Add the garlic and let cook for 1 minute. Transfer the onions and garlic to a small bowl and set the pan aside.

Combine all of the ingredients except the mango chutney into a glass bowl with the onions and garlic and mix well. Then add the mango chutney and fold into the ingredients being sure that you are evenly making a thick paste with all of the ingredients.

Salt the underside of the chicken and place on a sheet pan or roasting pan. Blot the skin of the chicken with a paper towel so it is dried well making it easier for the skin to crisp up during the baking process.

Begin by salting the skin and then take your mango paste and begin to spread all over the chicken with about ¾ of the paste. Use the remaining ¼ of paste to place under the skin in a thin layer to add extra flavor. (do not place any paste on the underside of the chicken)

Place into the oven for 55 minutes or until the thick thigh meat registers 165 degrees on an insta read thermometer. Enjoy!