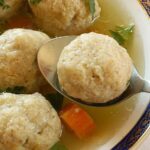 Print Recipe
Nanny Bubby's Matzo Balls
by Nanny Bubby
My daughter is a vegetarian, so she won't eat chicken soup. Naturally, I cannot cook the matzo balls in chicken stock. I cook them in heavily salted water the way I would cook pasta and they turn out wonderfully. Then I serve them to her in a vegetarian stock. The key to fluffy big Matzo balls is seltzer water (as my grandmother used to call it). Today we just all call it club soda. You can also substitute rendered chicken fat for the Ghee if you really want to go old-world on this. This pairs with my comforting chicken soup recipe. Enjoy! Factoid: The second largest population of Jews in the diaspora is in France. The herbs de Provence in this recipe is a nod to them as I can imagine them using it.
Total Time:
1

hour
Serves:
7
Ingredients
4

extra-large eggs

separated

½

c.

club soda

¼

c.

Ghee melted or rendered chicken fat if you want to be traditional

2

Tbsp.

Herbs de Provence

1

c.

matzo meal

1

Tbsp.

Kosher salt
Directions
Gently mix the egg yolks, club soda, ghee, Herbs de Provence and two tsps. salt.

Gently stir in the matzo meal.

In the bowl of an electric mixer whip the egg whites with the remaining tsp. of salt until they are stiff with strong peaks.

Fold them into the matzo mixture gently and refrigerate for at least 15 minutes.

With a 1.5-inch ice cream scoop, form into balls. Drop them into simmering well salted water and cook for 30 minutes, rolling them over after cooking them for 15 minutes.

Be sure to roll each one of them individually.

Serve two in each bowl of chicken soup. Enjoy!