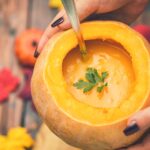 Print Recipe
Butternut Squash Soup In Pumpkin Bowls
by Nanny Bubby
To make the Butternut Squash Soup:
I don't ever remember having butternut squash soup growing up. I never even heard of it until 1999 when I was in South Africa deep within the Kruger National Park at a game Lodge called Sabi Sabi. Every sunrise and sunset we would go out on a photographic game drive and be amazed at the nature we were observing. One evening after one of our sunset drives we returned starving and a bit tipsy as they serve alcohol right before and after you take off for the adventure. Sabi Sabi had a staff of gourmet chefs that fed us fabulous meals for breakfast, lunch and dinner. This night they served a starter of butternut squash soup. It was amazing. I never had such flavor hit my taste buds. I so, so loved it. I asked for the recipe, but the chefs (who spoke a South African native language) and I could not quite communicate. I spent years working to perfect it. My family loves it. I think I got close.
To make the Pumpkin Bowls:
I have always loved the pictures of butternut squash soup being served in pumpkin bowls. The problem is that every recipe I found caused the pumpkins to be overcooked and become too soft, and the soup would seep out of it. What I learned after many times of trial and error, is that you just want to cook the pumpkins long enough at a medium heat to get the raw smell out of them. And, you don't want to scrape the bottom too much or you could puncture or cause a hole. It is ok to leave a little extra pumpkin meat in the bottom for extra protection. What you will have is a beautiful, splendid presentation during any fall holiday.
Enjoy!
Total Time:
1

hour
Serves:
6
Ingredients
For the soup:
1

Tbsp.

olive oil

1

Tbsp.

butter

1

medium onion

chopped

3, 12

oz.

packages cubed butternut squash

2

quarts.

organic vegetable stock

1

large clove garlic

or 2 small, minced

2

tsp.

fresh thyme

½

tsp.

fresh sage

½

c.

heavy whipping cream

Kosher salt and freshly ground black pepper
Topping
½

c.

heavy whipping cream

½

c.

Crème Fraiche
Tiger Pumpkins
Miniature Tiger Pumpkins

one for each one of your guests

Organic coconut oil spray
Directions
To Roast the Pumpkins
Pre-heat oven to 300 degrees.

Cut off the tops of the pumpkins.

With a grapefruit or serrated spoon, scrape out the meat and seeds, being careful not to scrape the bottom too thinly.

Once hollowed out, spray the inside of the pumpkin with the organic coconut oil spray.

Sprinkle with salt and pepper.

Wipe the outside of the pumpkins with a paper towel to remove the extra oil so they do not char in the oven.

Place upside down on a cookie sheet lined with a cooking rack and bake with the tops off but also in the oven for 15 minutes. Watching closely to be sure they do not crack or split. You will know they are done when they no longer smell raw and have a sweet pumpkin aroma to them. .
To Make the Butternut Squash Soup:
Heat the olive oil over high heat in a large non-metallic stock pot.

Add the chopped onion pieces until they begin to soften and turn translucent before they begin to brown, about five minutes.

Add the butter and then add the squash and cook stirring occasionally until the edges begin to brown and the squash begins to soften on the outside layer, about 10 to 12 minutes.

Add the garlic and cook for another minute until it softens being careful it does not brown or begin to burn.

Add the vegetable stock, thyme, sage and bring to a simmer. Simmer until the squash is very soft about 20 mins.

Take the soup off the heat, and then pour in the heavy cream. Puree the soup using an immersion blender.

Season with salt and pepper. Pour into your roasted Tiger Pumpkin Bowls.
For the topping
Mix together the cream and Crème Fraiche in a small bowl and drizzle over the top of the soup making designs as you go. Garnish with a piece of sage.
Notes
Tip: I use little Tiger Pumpkins for this recipe – but any miniature pumpkins are off the grocery shelves the day after Halloween will do. I buy them for Thanksgiving in late October and place them in the refrigerator till Thanksgiving. They will keep perfectly. If you wait till November 5, you will not find a single one! So figure out your Thanksgiving invite list early and buy enough in October.
Tip: Fried sage is an awesome treat on this. Just spray a little olive oil in a pan and sauté till crispy! Voila!