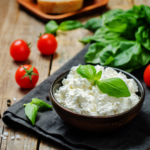 Print Recipe
Homemade Ricotta With Roasted Tomatoes
by Nanny Bubby
When I first started to cook, there were somethings that just seemed like total extravaganzas that I would never learn and really had no desire to learn. So, the idea of making my own homemade ricotta cheese never, and I mean NEVER occurred to me. Then I saw a chef demonstrate how easy it was and I was sold. The truth is, when I serve my own homemade ricotta cheese as an appetizer, I WOW my guests whether they are family or friends. Frankly, you can serve the most simple and unimpressive meal but if you start by saying, "I hope you enjoy this homemade ricotta cheese that I whipped up about 2 hours ago," whoever "they" are, "they" won't be able to stop talking about what a fabulous cook you are. Enjoy!!!
Total Time:
45

minutes
Serves:
7
Ingredients
4

c.

whole milk

2

c.

heavy cream

1

tsp.

Kosher salt

3

Tbsp.

White wine vinegar

For the roasted tomatoes:

3

c.

cherry tomato medley

¼

c.

EVOO

extra virgin olive oil

2

tsp.

kosher salt

1

tsp.

ground pepper

¼

c.

Basil Chiffonade
Directions
Dampen 2 layers of cheesecloth with water and line a large sieve with the cheesecloth.

Set the sieve over a deep bowl.

Pour the milk and cream into an enameled pot such as Le Creuset. Stir in the salt. Bring to a full boil over medium heat, stirring occasionally. Turn off the heat and stir in the vinegar. Allow the mixture to stand for 1 minute until it curdles. It will separate into thick parts (the curds) and milky parts (the whey).

Pour the mixture into the cheesecloth-lined sieve and allow it to drain into the bowl at room temperature for 20 to 25 minutes. The longer you let the mixture drain, the thicker the ricotta. Transfer the ricotta remaining in the sieve to a bowl. Use immediately and eat warm or place in the refrigerator in a sealed container for up to 5 days.

For the Roasted Tomatoes:

Preheat oven to 400°

Drizzle the tomatoes with the olive oil, salt and pepper, and toss until well coated. Cover a sheet pan with parchment paper and lay the tomatoes out on the parchment and then place into the oven for 10-12 minutes.

Place the ricotta in the center of a platter and spoon the roasted tomatoes over the top and around the sides. Sprinkle with coarse French sea salt and the basil and ENJOY!!