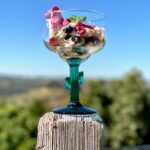 Print Recipe
Frozen Yogurt Bark With Fresh Berries
by Nanny Bubby
When the weather starts to show signs of springtime, I crave the beauty of the colors of the summer. Even though stone fruit has not begun to ripen yet, this yogurt bark takes on the colors of springtime and summer and the berries can easily be substituted with stone fruits when it comes summertime. This is a great dessert for the spring holidays of Easter and Passover. It is light, flavorful, and delicious! Enjoy!
Total Time:
30

minutes
Serves:
8
Ingredients
2/3

c.

seedless raspberry jam

2-3

Tbsp.

Fruit flavored balsamic vinegar or plain balsamic is good

1

lemon zested

1

tsp.

lemon juice

1

qt.

vanilla flavored Greek yogurt

½

c.

blueberries

½

c.

raspberries

1/3

c.

sliced strawberries

1

oz.

dark chocolate bar

½

c.

chopped pistachio nuts
Directions
Combine the jam, vinegar, zest and lemon juice in a small bowl with a whisk.

Line a ½ sheet pan with parchment paper. Empty the entire contents of the 1 quart yogurt onto the sheet pan and spread out evenly to cover the bottom of the pan.

Dollop spoonful's of the jam mixture down the middle of the yogurt. With a wooden skewer or the point of a butter knife swirl the jam throughout the yogurt mixture.

Sprinkle the blueberries, raspberries and strawberries evenly throughout the yogurt.

Make shavings of the dark chocolate and chop pistachio nuts then sprinkle both on top.

Place into the freezer for a minimum of four hours, (overnight is best). To serve, break into pieces and serve in your favorite parfait glass or dessert cup.

Add a little extra dark chocolate when serving. That's it. Enjoy!